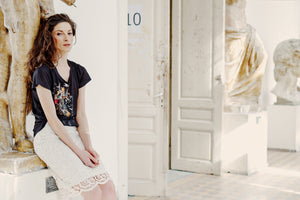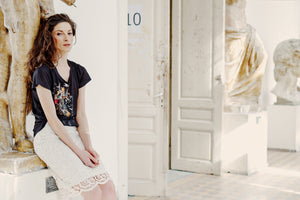 manufactured specially for you
Flo Atelier was founded in 1994 by Milena Dimitrova (MD) to create unique clothing.We specialize in handmade creations selected from fine materials. We combine a special eye for detail in the construction of our products with the latest trends
and technologies in the textile industry.
Welcome to FloAtelier!
★★★★★

It's the first time I've ordered from Flo Atelier. I was attracted by the unusual design of the blazer. The hand-cut linen blazer according to my individual color wishes in dark beige tones even exceeds my expectations in the original. It is excellent and high-quality workmanship. The great light linen fabric and the individuality of the garment inspire me and I am enraptured by this beautiful unusual jacket. She looks absolutely great dressed and is an absolute eye-catcher! From the purchase, to the reliable shipping, the excellent and friendly customer service to the absolutely fantastic goods, everything is perfect and highly recommended.

Los Angeles, CA
★★★★★

Beautiful skirt! The denim fabric is excellent, with just the right weight - and the design is wonderful. It has a quite unique quality, with the panels combined to create an effect that's very special. It is as if the skirt is 'crafted', as well as sewn; while the sewing is very fine as well. The shape is great; it is lovely to wear. In some ways it has a tailored finish, yet the asymmetrical design gives a 'kick' to the look. It is versatile: I can wear it casually or more formally. So I'm very pleased! I'm grateful for most kind help with delivery, as postage wasn't successful, to start with. Warm, kind reassurance made a huge difference. Despite delay, to receive this, in Australia, has been a delight.

esmonde151

Skennars Head, Australia
★★★★★

Wonderful professional seller .The quality is amazing, product as described.Shipping on time.Personalization for lenght perfect .Highly recommended !!Thank you !

Marsalic
★★★★★

Beautiful and fits perfectly!

Jill
★★★★★

Fun skirt for formal events, premium fabric, beautifully sewn. Thanks!!

Saori